Description
Himalayan Cedarwood Essential Oil (Cedrus deodara) is a symbol of strength, wisdom and abundance, this rich and warmly soft species of cedar is used traditionally in Ayurvedic and Tibetan medicines as an incense ingredient to aid in meditation. Himalayan cedar boasts a rare and powerful combination of qualities that are both stimulating to the body but calming to the mind.


Himalayan cedar is widely known for its soothing qualities to sore bodies and breath. This woody, delicious oil is a true tree nectar. It has antifungal, antiseptic, diuretic, astringent and sedative properties. It has the power to improve your skin, help with organ function, tighten muscles, improve metabolism and benefit your digestive system. Over the last 100 years, cedarwood's beneficial effect on eczema, skin eruptions and disease has been noted, and it is highly valued in dermatology. Cedarwood also calms fears and anxieties relating to sexuality.


Uses: The oil's antifungal properties heal psoriasis dermatitis, and athlete's foot. This oil is widely used in perfumes and soap.


Countries where it's found
Red cedarwood is native to North America growing primarily in mountainous regions while the Texas Cedarwood is predominantly grown in the south-western United States, Mexico and Central America. The Atlas cedar is a native to North Africa.


Harvesting Information
Cedarwood tree is best harvested only after the tree attains full maturity. The tree is allowed to grow in its natural environment for a period time before portions of the tree are cut.


History of the Plant
Research has indicated that cedarwood has been around since biblical times. The oldest living cedar was 2,500 years old before being cut down for commercial reasons. The plant grows up to 100 feet.

Extraction Process
Cedarwood oil is extracted from the foliage and woods and various types of conifers of the plant. Extraction is carried out through steam distillation. The oil is delicate with gentle, woody aroma.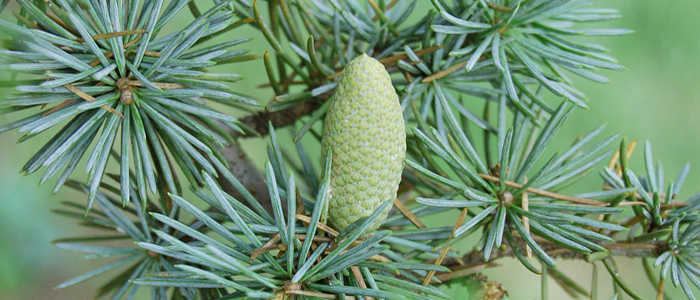 Commonly known Benefits


Medicinal Benefits:
As a sedative, Cedarwood oil has relaxing effect on the mind. It has a great soothing, calming, and sedating effects on the mind. It also induces sleep in patients suffering from insomnia.
The oil's sedative effects have been clinically proven by Japanese researchers.
The essential oil of cedarwood is high in antiseptic and astringent properties used to treat various skin disorders.
It cleanses the skin from impurities, tightens the skin tissue, relieves itchy irritation, can be regularly used on acne, eczema, rashes, blemished, and wrinkles.
Inhaling Cedarwood oil breaks up phlegm and mucus. It also reduces sebum production.
The oil is also used to treat various respiratory conditions such as asthma, bronchitis, congestion, cough, and sinusitis.
Eastern cultures used Cedrus atlantica to treat bronchial infections while red cedar was used by Native Americans to treat excess catarrh.
Cedarwood oil was an important antidote for poisoning.
The oil controls dandruff and improves the hair condition. It stimulates hair follicles and scalp.
The oil reduces cellulite by increasing circulation and releasing wastes from the body.
Cedarwood oil promotes urination and is useful in treating urinary tract infections and prostrate problems.
Its antiseptic properties reduce pain associated with back pain, arthritis, rheumatism, and carpal tunnel syndrome.
The oil is a powerful nerve tonic and induces a state of meditation.
It helps in curing high blood pressure and hypertension.
It also strengthens gums and relieves toothaches.


Non-medicinal Benefits:
The oil is used in soap and perfumes as a fragrance agent.
The oil was traditionally used by ancient Egyptians for embalming.
It is used in the bath through steaming.
Cedarwood oil is used in Egyptian incense, cosmetics, and perfumes.
A coating of cedarwood oil was used in the protection of papyri.
The oil was used in paints by the ancient Sumerians.


We Accept
Your payment information is processed securely. We do not store credit card details nor have access to your credit card information.